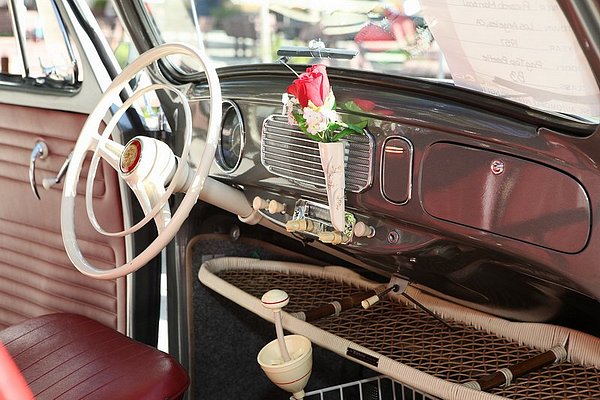 16 Sep

VINTAGE VW TREFFEN 2013

VINTAGE VW TREFFEN held on the beautiful grounds of the Phoenix Club in Anaheim, California with major sponsorship from WolfsburgWest has become one of the most highly anticipated and heavily attended non-drag VW events in So. Cal.

As in years past the September 7-8 2013 gathering drew enthusiasts from around the globe and featured many of the finest restored vintge VWs on the planet. Also in attendance were a select group of highly modified So Cal rides along with numerous some cars that left you scratching your head wondering if they were in fact OEM. Regardless they were ALL GOOD and the evernt made for a terriffic opportunity for the VW community to get together for one last summer fling. Make sure you stay in touch at www.bugin.com for information on next years event.
AND SUPPORT TREFFEN SPONSORS!
The following is a note from Rich Kimball, the promoter and a brief outline of this years goings on linked directly to Treffen. It will give you a pretty good idea what to expect next year and just exactly why you should make the trek to Orange County for Treffen 2014. Laid back So Cal style and a heck of a lot of fun for the entire family.

"After visiting events in Germany like Bad Camberg and Hessisch Oldendorf, we wanted to bring an old German atmosphere together with strictly Vintage Volkswagens. The Phoenix Club in Anaheim, California is a true 'old school' German Cultural Club, as well as the perfect host for an event like this. The So Cal Vintage Treffen is limited to 1957 and earlier Beetles and "Press Bumper" Busses, 1959 and earlier Karmann Ghias, Military Vehicles and early coachbuilts. Our first event held in September 2007 turned out to be a big success, and the plan is to hold it every other year opposite the Solvang Vintage Meet put on by the Golden Gate Chapter of the VVWCA. So if you have an old VW collecting dust in the garage and you want to show it off, or if you're just looking for an excuse to have an authentic German Bratwurst and beer… the So Cal Vintage Treffen is just the place for you".

Saturday, September 7th
SPEEDWELL RALLYE

The Speedwell Rallye will be leaving at 8:00am from Cars and Coffee, located at the Ford Design Center on 7905 Gateway Blvd, Irvine Ca. 92618. This will be around a 70 mile course cruising parts of the Pacific Coast, through Santiago Canyon and eventually ending at The Phoenix Club around noon. From 12pm-5pm we will have last minute car registration and placement for those who would like to get their car inside and parked a day early.
Sunday, September 8th 2013
4th International So-Cal Vintage Treffen
Car Show/Vendor Gate opens @ 6:00 am
Spectator Gate opens @ 8:00 am
Show Judging ends, Ballots due @ 11:00 am
German Dancers and Entertainment @ 1:00 pm
Car Show Awards @ 3:00 pm
Pricing
Spectator Admission $15
(kids 12 and under free)
Standard Car Show Entry $25
(includes car and driver)
Deluxe Car Show Entry $60
(includes car and driver + 1 passenger)
Vendor/Swap Spot $50
(Includes 2 people)
The Phoenix Club
1340 S. Sanderson Avenue
Anaheim, California 92806
(714) 563-4166

The Ayres Hote will be the recommended hotel for the 4th International Southern California Vintage VW Treffen.
The Ayres is the official hotel of the Phoenix Club and offers a special rate of $112/single and $120/double (includes breakfast and parking) when you mention the "VW Treffen" and the group code "VW0907". The Ayres is a very nice hotel, with a great European atmosphere, the closest one to the Phoenix Club, and within a reasonable walking distance. A block of rooms is being saved until August 15th, so if you think you want to stay at the Ayres, be sure and get your reservation asap! The hotel phone number is 714/634-2106.
2550 E. Katella Avenue
Anaheim, CA 92806
714-634-2106
——————————————————————————–
Swap / Vendor Info
Vendor and Swap spaces at the 2013 Vintage VW Treffen will be available! Each spot is aprox 15'x20' and will include 2 Spectator Admissions. Any additional tickets can be purchased at the front gate for $15 each. Vendor/Swap spots will be $50 each and can be paid for at the gate Sunday morning. Spaces are on a first come first serve basis.
——————————————————————————–

Car Show Info
The So-Cal Vintage Treffen is limited to the first 200 cars registered. This event in particular is specifically for 1957 and earlier Beetle and "Press Bumper" Buses, 1959 and earlier Karmann Ghias, WWII Military and early VW Coachbuilts. Because of our limited room at the Phoenix Club, we have to limit the vehicle count to 200. If there are spots available after pre-registration closes, we will take entries the day of the event until our maximum capacity is reached.
**For the 2013 Southern California Vintage VW Treffen we now offer two levels of entry**
$60 Deluxe Entry: This will get both driver and one passenger (must be riding along in the car) and the vehicle. For your deluxe Entry you will be included in the judging portion of the event and receive the "goodie bag" including the limited edition, numbered car badge and event pin. If you have entered in a previous Treffen event and would like the same number as before, that can be arranged. Also, the vehicles picked to park in the Beer Garden and Festal-Tent will be chosen from our Deluxe Entries only. However, if you are fortunate enough to be chosen to be in the tent, you will not be apart of the regular show judging. Each vehicle picked to be in the tent will receive a special Treffen award.
Pre-Registration now open for Deluxe entries only.
Click here to download and print the Registration Form.
To pay by check please mail your payment and registration form to:
Periscope Enterprises/Treffen Entry
PO Box 1488
Tustin, Ca. 92781-1488
To pay with Paypal just click the link below. Remember along with payment you also need to fill out a registration form and mail or fax that into our offices. Be sure to include the Paypal Transaction ID on your registration form.
____________________________________________________________
$25 Standard Entry: These entries will be sold at the gate, on the morning of the event, as space allows. Standard entry participants will be able to park inside on the grass along with all the other early vehicles and register for the show. The Standard entry is for the guy who wants to show up and park inside, but not necessarily interested in receiving any of the limited edition goodies. Be advised that there will be limited Standard entries based on the number of pre-registered Deluxe entries.
Each participant will receive a judging card to fill out and return to the car show registration booth. You are to vote for one car in each class except the class you are registered in. A first place and runner-up award will be given out for each class along with a few specialty awards to be determined later.
Show Classes
A1 Split Window 1949 and earlier
A2 Split Window 1950 to October 1952
A3 Split Window "Zwitter" Oct '52 to March '53
A4 Split Window Convertible (including hebmuller)
A5 Split Window Unrestored all years
B1 Oval Window sedan April 1953 – 1955
B2 Oval Window sedan 1956 – 1957
B3 Oval Window Sunroof all years
B4 Oval Window Convertible all years
B5 Oval Window sedan unrestored all years
C1 Karmann Ghia coupe 1959 and earlier
C2 Karmann Ghia convertible 1959 and earlier
D1 Barndoor Passenger Bus
D2 Barndoor Commercial Bus
D3 Post Barndoor Passenger Bus
D4 Post Barndoor Commercial Bus
D5 Barndoor Bus unrestored
D6 Post Barndoor Bus unrestored
E1 Coachbuilt
F1 Porsche
G1 Military
Plus special awards for Oldest Car, Longest Distance "driven", Best Original car, Best Advertising Bus, Best display,
——————————————————————————–
As always our man of the afternoon was Vic Penrod and his trusty Canon. Check out Vic's photo coverage of Treffen and if you're looking for a down to earth pro-photographer with a eye for capturing the "feel" of your get together or special event drop him a note at fourfiona@aol.com
Photos by Vic Penrod