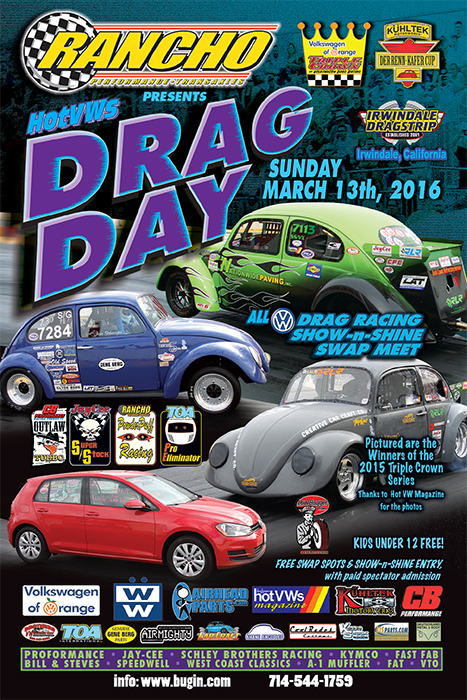 02 Mar

Rancho Presents Hot VWs Drag Day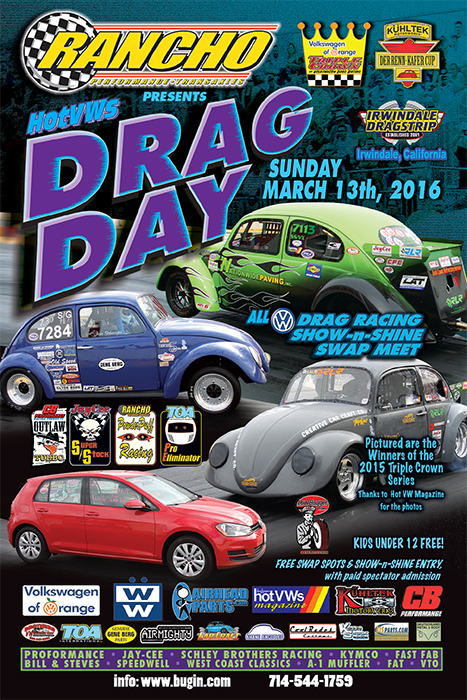 RANCHO PERFORMANCE presents
Hot VWs Drag Day
Sunday March 13, 2016
Irwindale Speedway
The gates will open at 7am Sunday morning,  March 13, at the Irwindale Speedway for a full day of Volkswagen activities at the RANCHO PERFORMANCE Hot VWs Drag Day!  Events will include some of the fastest Volkswagens in the world competing for cash and trophies on the famous Irwindale dragstrip, plus hundreds of beautiful street VWs in the Show-n-Shine and one of the best all VW Swap Meets in the United States.
This event also kicks off the 2016 VW Triple Crown of VW Drag Racing Series sponsored by Volkswagen of Orange. Classes include the CB Performance sponsored Outlaw-Turbo class, the JayCee Enterprises Super-Stock Class, the TOA International sponsored Pro-Eliminator class, and of course the ladies in the Rancho Performance sponsored Powder-Puff class. The poster for this event shows the four 2015 series champions, Karl Kopenhaver O/T, Jack Sacchette S/S, John Schuerger P/E, and Candy Larsen  P/P.
VW enthusiasts from all over the world will attend this event and the rest of the Triple Crown Series, The Kuhltek Motorwerks BUG-IN 41, May 15 and the Rancho Performance Hot VWs Drag Day, Sunday October 30, both events will be held at the Auto Club Speedway in Fontana.
Spectators $20
Kids under 12 are free
Racers $45 car/driver
Swap Spots or Show-n-Shine are free with spectator admission
For further event information please call 714/544-1759
or go to BUGIN.com