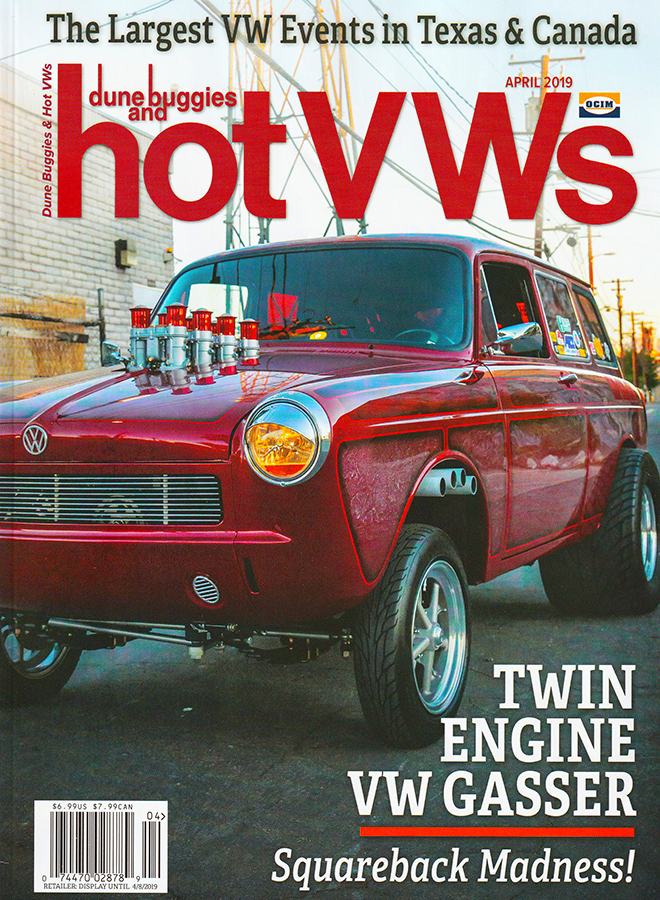 08 Mar

Flat 8 powered Squareback Gasser

Okay so safely stop whatever you are doing and get you ass down to your local book store or market and score a copy or 2 of the April 2019 issue of Hot VWs magazine. Shin and crew have really brought some much needed flavor and personality to the magazine and it shows. We just received ours in the post and it totally caught us off guard with what looks like a Hot Rod Gasser on the cover. Really drew us in and when we got to the article we couldn't stop reading and discussing the work that Ron Howe put into this unique VW gasser. At first glance we thought he'd simply installed a small V8 but, nooooo! This thing is powered by a pair of mated 2332cc type 1 engines for a total of 285 cu in putting out 400hp.

Got your ear? How about a Tremec TKO5 5-speed. The chassis is just as impressive with custom fabrication at every corner including a gasser style flip forward front end, straight front axle with leaf springs and 9″ Ford rear end. Don't want to give away all the details as Shin really identifies all the fine points in his great article. So get your lazy butt on the move and go pick up a copy or 2. When your buddies see it the first issue is certain disappear.